Pam Vardy - Artist
Welcome to the Pam Vardy artist online art website where you can buy art
from Northumberland artist Pam Vardy -2020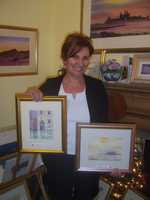 Buy direct from Pam Vardy from her
online art gallery where you can buy art!
Buy direct from the artist Pam Vardy - original paintings,
prints & greetings cards of Northumberland, landscapes, seascapes, Northumbrian castles, snow scenes, flowers, Venice.
Buy Gift vouchers on line
Visit artist Pam Vardy at her new home in Longframlington,
Morpeth, Northumberland, U.K. to buy direct.
Open by appointment any time including evenings!
Contact Pam for more information, to ask a question
or make a comment.
Pam Vardy - Artist